Research Interests
Our laboratory is interested in understanding the fundamental biological principles that lead to Staphylococcus aureus infections, an important human bacterial pathogen that is responsible for causing high morbidity and mortality worldwide. During the course of the past 4-5 years, our research has identified several interesting and novel pathways that are involved in beta-lactam resistance in S. aureus. Beta-lactam drugs remain as one of the gold standards of treatment for bacterial infections due to their superior efficacy and safety over other drugs. Widespread resistance in bacteria however limits its use. Studying novel pathways will decipher their role/s in the beta-lactam resistance process. Moreover, our work will elucidate various unknown aspects of basic biology, such as bacterial cell signaling, gene regulation and protein-protein interactions, which are crucial for bacterial resistance.
We are always looking for motivated and collegial candidates for the lab. If you are interested in our research questions please contact schatterjee@umaryland.edu with your CV and a statement explaining why you would like to work in our group.
Current Research Foci:
Decipher the biological basis for pathogenic of S. aureus using a wide variety of molecular biology, genomic, biochemical, and immunological approaches.
Study beta-lactam drug resistant phenotypes and genotypes through proteomics and genomics.
Explore non-canonical (novel) targets responsible for beta-lactam resistance in S. aureus to re-sensitize resistant bacteria to beta-lactam drugs.
Explore novel approaches, such as developing nano-bodies, to treat staphylococcal infections.
About the Principal Investigator:
Dr. Chatterjee received his master's degree from the Department of Biophysics and Molecular Biology, University of Kolkata (Calcutta), India. He then went on to perform his doctoral studies in the laboratory of Dr. Trinad Chakraborty in Justus-Liebig University, Germany where he studied the infection process of Listeria monocytogenes, an intracellular pathogen that is responsible for causing food-borne illnesses.
After completing his PhD, he joined Dr. Michael Otto's group at the National Institutes of Health (NIH) to study the secretion process of a group of cytolytic peptide toxins called Phenol Soluble Modulins (PSMs) in S. aureus. In 2014, Dr. Chatterjee joined Dr. Henry Chambers' group at University of California, San Francisco (UCSF) to study the major public health problem of antimicrobial resistance in S. aureus. In 2015, he became an Assistant Adjunct Professor at UCSF.
In January of 2019, Dr. Chatterjee joined the faculty at the University of Maryland, Baltimore. He is a member of the UMB School of Dentistry Department of Microbial Pathogenesis. He is currently based at the Institute of Marine and Environmental Technology (IMET), where he continues to investigate antimicrobial resistance in S. aureus.  Research in the Chatterjee lab is funded through grants from the National Institutes of Health (R01 and R21) and through University Systems of Maryland (seed funding).
Publications (selected):
Basuino L, Jousselin A, Alexander JAN, Strynadka NCJ, Pinho MG, Chambers HF, Chatterjee SS. 2018. PBP4 activity and its overexpression are necessary for PBP4-mediated high-level beta-lactam resistance. J Antimicrob Chemother doi:10.1093/jac/dkx531.
Chatterjee SS, Chen L, Gilbert A, da Costa TM, Nair V, Datta SK, Kreiswirth BN, Chambers HF. 2017. PBP4 mediates β-lactam resistance by altered function. Antimicrob Agents Chemother doi: 10.1128/AAC.00932-17.
Greninger AL, Chatterjee SS, Chan LC, Hamilton SM, Chambers HF, Chiu CY. 2016. Whole-Genome Sequencing of Methicillin-Resistant Staphylococcus aureus Resistant to Fifth-Generation Cephalosporins Reveals Potential Non-mecA Mechanisms of Resistance. PLoS One 11:e0149541.
Alexander JAN, Chatterjee SS, Hamilton SM, Eltis LD, Chambers HF, Strynadka NCJ. Structural and kinetic analyses of penicillin-binding protein 4 (PBP4)-mediated antibiotic resistance in Staphylococcus aureus. J Biol Chem. 2018 Dec 21;293(51):19854-19865. doi: 10.1074/jbc.RA118.004952.
da Costa TM, de Oliveira CR, Chambers HF, Chatterjee SS. PBP4: A New Perspective on Staphylococcus aureus β-Lactam Resistance. Microorganisms. 2018 Jun 22;6(3). doi: 10.3390/microorganisms6030057.
About the Lab Members:
Aditi Chatterjee, PhD.
For her undergraduate degree, Dr. Chatterjee graduated with honors in microbiology from the University of Burdwan, West Bengal, India. She went on to complete her master's degree in 2010 in biotechnology at Lovely Professional University in Punjab, India. In 2013, she became a CSIR Junior Research Fellow and began her PhD degree, during which she worked on protein tyrosine phosphatases in Mycobacterium tuberculosis. In 2018, she went on to do her post-doctoral fellowship at the University of California, San Francisco in the laboratory of Dr. Som Chatterjee. In January 2019, she relocated to Baltimore, Maryland where she now continues her research in Dr. Chatterjee's lab. Her project focuses on the roles of serine-threonine kinase and cyclic-di-AMP signaling in S. aureus' beta-lactam resistance.
Koyel Ghosal, PhD.
Koyel has a Bachelor's degree in Pharmacy from the University of Pune, India. After working for a year in the quality control department at Knoll Pharmaceuticals, BASF Pharma, India, she moved to the USA for graduate studies. She obtained her Master's degree in Cell and Molecular Biology, specializing in Biochemistry, at the University of Rhode Island. She then completed her PhD in Biomedical Engineering and Biotechnology at the University of Massachusetts, Dartmouth, where her research focused on the role of non-toxic neurotoxin associated proteins in the translocation of botulinum neurotoxin across bronchial and intestinal barriers. In December 2014, she joined as a postdoctoral fellow in Dr. Bryan Krantz's lab, Department of Microbial Pathogenesis, University of Maryland Baltimore, where she studied protein unfolding and translocation using anthrax toxin as a model. She is continuing her post-doctoral fellowship in Dr. Som Chatterjee's lab from March 2020. Currently her research in the Chatterjee lab focuses on studying the beta-lactam resistance pathway in S. aureus and exploring novel targets to re-sensitize resistant strains to beta-lactam drugs.
Nagaraja Mukkayyan (NM), PhD.
NM received his undergraduate degree at Kuvempu University, Shimoga, India, where he studied Biochemistry, Microbiology and Botany. He received his Post-graduate degree from Pondicherry University, Pondicherry, India, where he studied Biochemistry and Molecular Biology. He then earned his Ph.D. at the Indian Institute of Science, Bangalore, India, where he worked in Dr. Parthasarathy Ajitkumar's laboratory studying the mechanism of cell-length heterogeneity in Mycobacterium tuberculosis. He is now a post-doctoral fellow in Dr. Chatterjee's lab in Baltimore, Maryland, where he works on the role of GdpP in antimicrobial resistance in S. aureus. His major research interests are microbial-resistance mechanisms, bacterial signaling mechanisms, and bacterial phenotypic heterogeneity.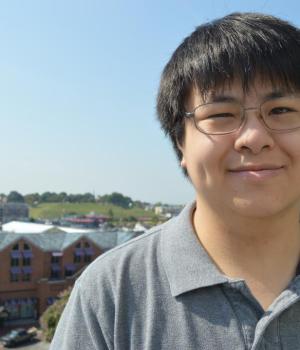 Raymond Poon, B.S.
Raymond graduated from the University of California, Berkeley with an undergraduate degree in Molecular and Cellular Biology and a concentration in Immunology. After completing his degree, he interned for two semesters in a program called "Bridge to Biotechnology." through City College of San Francisco. In 2018, he began to work in Dr. Chatterjee's lab at the University of California, San Francisco, and in 2019, he relocated to Baltimore, Maryland where he continues his research. He studies the roles of various targets on beta-lactam resistance and performs computational work.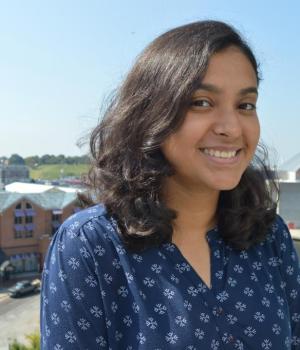 Nidhi Satishkumar, M.S.
Nidhi completed her Master's in Biotechnology at Fergusson College, India in 2018. During and after completing her Master's degree, she interned at the R&D unit of Gennova Biopharmaceuticals in India, where she worked on overexpression and analysis of therapeutic proteins. She also interned at Tata Medical Center, Kolkata where her project involved optimizing a protocol for cytotoxicity assays to analyze the effect of chemotherapeutic drugs on leukemic cells. In 2019, she joined Dr. Chatterjee's lab as a PhD student, and her current project focuses on the mechanisms by which PBP4 mediates resistance to antimicrobial drugs in S. aureus.
Lab Alumni:
Zahra Zubair-Nizami, B.S.
---
The Chatterjee lab at the 2019 IMET crab feast