Research Interests
Steven Rodgers works fulltime for UMBC as the manager of the Institute of Marine and Environmental Technology's Aquaculture Research Center. A position he has held for over 27 years.  Steven has a wealth of knowledge in animal husbandry and aquaculture spanning 40+ years.  His interest is in aquaculture, specifically treatment of aquaculture effluents.  His current focus is on how oolitic aragonite sand can alter aquaculture water quality; remove phosphorus; be a potential aid in oyster growth in recirculating aquaculture systems and the sand's ability to be recharged.   He is also working on to what degree bivalves may function as biological solid filters in recirculating aquaculture effluent flows.  For over 20 years, Steven has been a member of the Aquaculture Engineering Society. He supported University oversight of research as a past member of the University of Maryland Biotechnology Institute's IACUC and the Center of Marine Biotechnology's Institutional Biosafety Committees.
AREAS OF EXPERTISE
Animal Husbandry
Aquaculture
Engineering
Mentoring and outreach
EDUCATION
University of Maryland, Marine-Estuarine-Environmental Sciences (MEES) Graduate Program
PhD 
Part-time PhD Student with the MEES program in the Fishery Science Area of Specialization, specifically recirculating aquaculture system.
Florida Institute of Technology, Melbourne, FL
M.S. in Marine Biology - 1992
Thesis: "The Comparative Feeding Ecology and Its Impact on Growth of Red Drum Sciaenops ocellatus in the North Indian River and the North Banana River Lagoons, Florida."
University of Millersville, Millersville, PA
B.S. in Biology - 1987
Area of Concentration: Marine Biology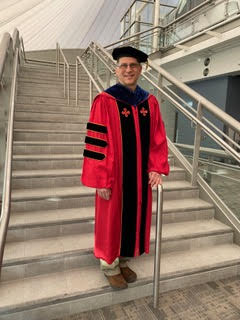 Steve in PhD graduation regalia at IMET.