E.U. Ambassadors discuss climate crisis at public forum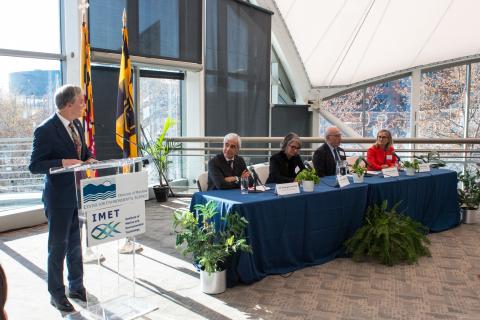 European Union Ambassadors to the United States spoke at a public forum at the Institute of Marine and Environmental Technology (IMET) in Baltimore on what their countries are doing to address the growing climate crisis.  IMET hosted representatives from Portugal, Sweden, France and Spain to discuss how their countries are responding to the rapidly growing threat of climate change and to answer questions from concerned citizens about what we can do as individuals and communities in response.
 "We are not facing an urgent situation. We are facing a global emergency, so the response has to be for an emergency situation," said Ambassador of Portugal Domingos Fezas Vital.
He explained how his country runs entirely on renewable energy for 3 days a week. Sweden's Ambassador Karin Olofsdotter highlighted how her country wants to become the first fossil fuel free country in the European Union.
"We must raise the levels of our ambitions. Otherwise we might lose the battle," said the Ambassador of France Philippe Étienne.
Panel participants included Ambassador of Portugal Domingos Fezas Vital, Ambassador of Sweden Karin Olofsdotter, Ambassador of France Philippe Étienne, and Chargé d'Affaires of Spain Cristina Fraile.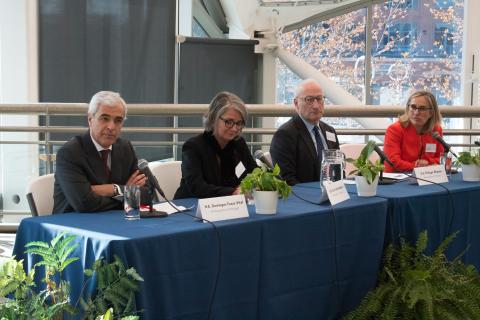 "It was inspiring to hear how their nations, with the overwhelming support of their citizens, have implemented strategies to reduce their greenhouse gas emissions, lessen their reliance on fossil fuels, and grow their economies at the same time," said University of Maryland Center for Environmental Science president Peter Goodwin, who moderated the event. He also represents the 12-member University System of Maryland as Vice Chancellor for Sustainability.
"Unfortunately, the most recent scientific reports have shown greenhouse gas emissions are still climbing, the cryosphere and oceans are changing rapidly, sea levels continue to rise at alarming rates, and threats from extreme floods, droughts and heat waves threaten our communities," he said.  "The good news is—despite the United States plans to withdraw from the Paris Climate Agreement, which sets out a global framework to avoid dangerous, life-altering climate change—many sectors of our society remain committed to take actions to strengthen the global response to the threat of climate change."
For example, Second Nature is a large group of universities including the University of Maryland Center for Environmental Science that have signed on to actions that integrate carbon neutrality with climate resilience. Many local governments, cities, states, and communities are also taking significant actions to reduce carbon emissions toward sustainability.
"Maryland is geographically located in one of the most vulnerable areas of our nation," said Maryland Department of Natural Resources Jeannie Haddaway-Riccio. "Under Governor Hogan Maryland has been a leader in climate change. We are striving to lead by example in three major ways: smart planning, building resiliency through green infrastructure, and making a strong investment in our future."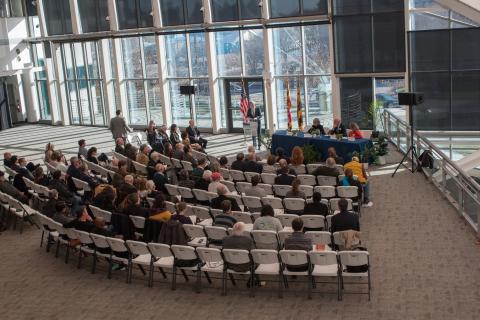 The Paris Agreement, adopted in 2015, sets out a global framework to avoid dangerous, life-altering climate change. The governments of 197 nations have agreed to a long-term goal of keeping the increase in global average temperature to well below 3.6 degrees Fahrenheit above pre-industrial levels and pursuing efforts to limit the increase to 2.7 degrees F, necessary to significantly reduce risks and the impacts of climate change. Countries submitted national greenhouse gas emissions reductions targets (called nationally determined contributions, or NDCs) and agreed to come together every five years to assess the collective progress towards the long-term goals. The United States recently signaled its intent to formally withdraw from the Paris Agreement.