Fall 2019 Student Achievements
IMET students are engaged in important research, exploring career paths, and honing their presentation skills. Recently, several students were recognized for these pursuits. Here, we ask students a few questions about their recent achievements.
University of Maryland, Baltimore Ph.D. Scholar Award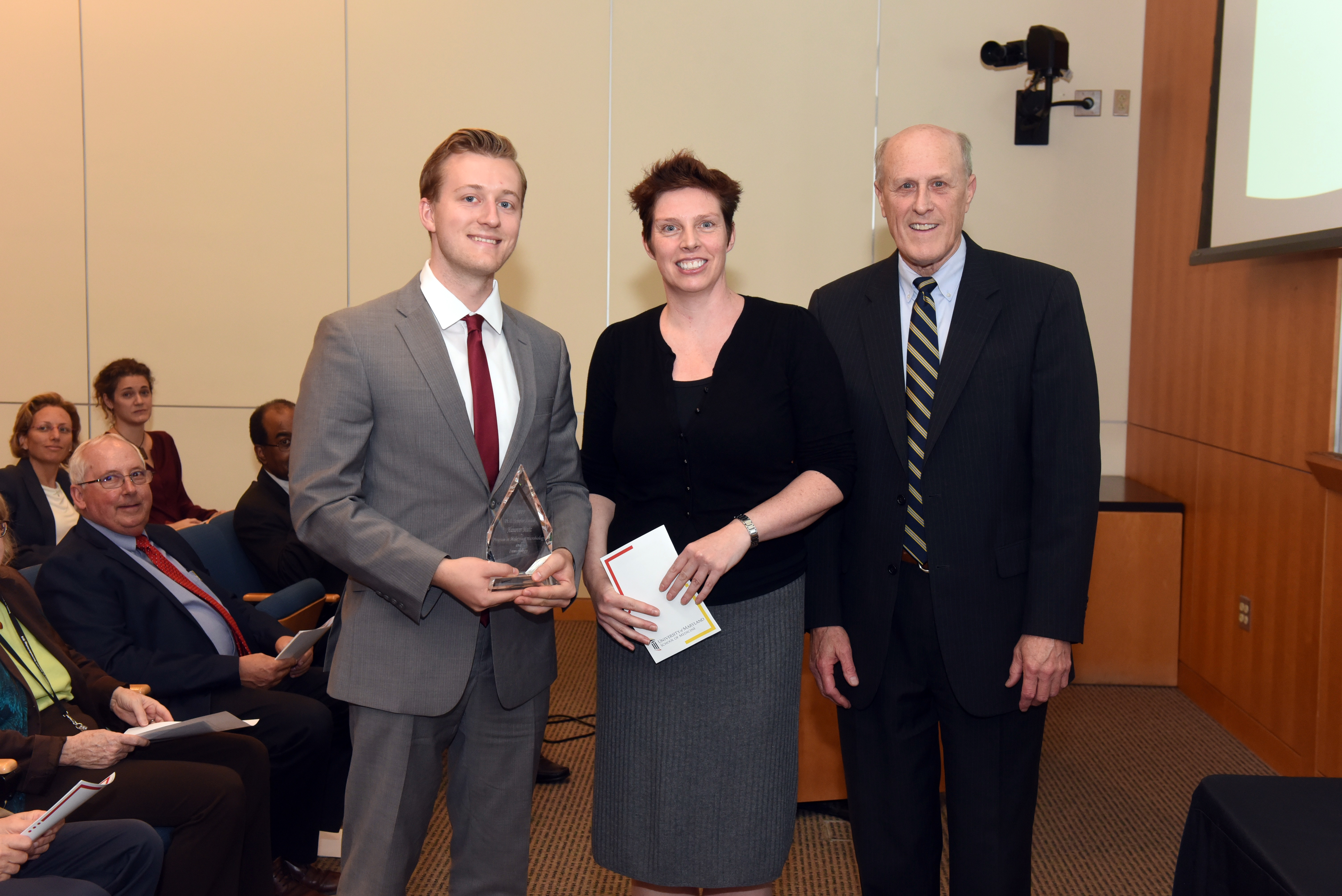 Hanover Matz, who is a Ph.D. student in the lab of Dr. Helen Dooley, received the UMB Ph.D. Scholar Award for 2019. This award, which is given to a student in the first three years of a Ph.D., acknowledges Matz's outstanding achievements in his coursework and research. 
What is your research project and why is it important? My research project is focused on the evolution of the B cell response in sharks, the oldest living organisms to have an immune system that makes antibodies like humans. I am trying to understand how specific B cell clones are selected to respond against antigens during the shark immune response, and how they are regulated by signaling molecules called cytokines. Understanding the evolution of this response will help us better design vaccines and treat autoimmune diseases in humans. I am most excited about applying techniques like RNA fluorescence in situ hybridization and laser capture microdissection to investigate aspects of the nurse shark immune response that no one has looked at before in tissues. Hopefully, the data I collect in my project will answer fundamental questions about the functioning of immunity in all species. 
NOAA Experiential Research and Training Opportunities (NERTO)
Students Amanda Lawrence and Shadaesha Green, both pursuing their degrees in the Chung Lab, recently completed their NERTO. This program provides an internship at a NOAA facility, enabling students to conduct research in a new place and to better understand the kind of careers available in a federal agency. We sat down with Amanda Lawrence, who spent her NERTO at the Northwest Fisheries Science Center Field Station in Mukilteo, Washington. 
How did this experience help you grow as a scientist? I was investigating the effects of ocean acidification on the larvel development of the Dungeness crab. As part of this, I was trained on a new respirometry equipment. I got to set up her own experiments, which is very valuable for my growth as a scientist. I was doing a lot of method development and working through challenges so that the process could be used in the future. 
What are your career goals and did your NERTO influence that? At the time, I was working on my Knauss Fellowship application so that I could explore policy. Now, I'm headed into the Knauss program, which should help me decide whether to continue in policy or return to a Ph.D. program. Through the NERTO, I got to talk to a lot of people who work for NOAA and understand the various roles that I could be doing in the future. There are people running their own labs and others working as lab techs. My mentor is a Ph.D. and he's running the whole field station. There are people working in the lab who have M.S.s. I got to understand the variety of science careers within NOAA.
Read more about Amanda's Master's research on Jonah Crabs here about her Knauss fellowship here. Since we published the Knauss announcement, Amanda found out that she'll be a Coastal Marine Research Specialist with the United States Fish and Wildlife Service. 
Marine-Estuarine Environmental Science (MEES) Colloquium Awards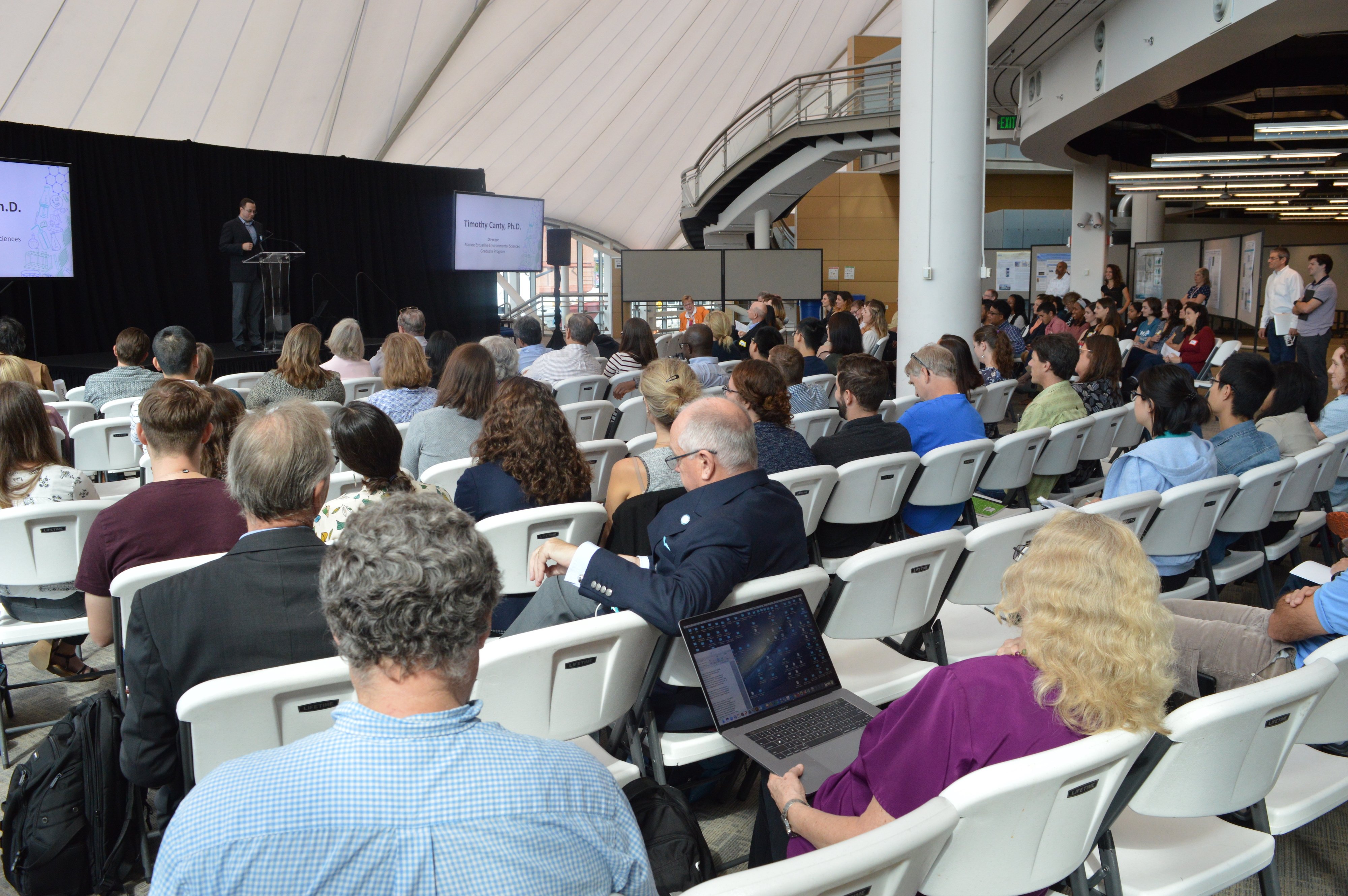 In October, IMET hosted the MEES Colloquium, where graduate students from across the University System of Maryland presented their research. A jury of faculty from each of the participating schools judged presentations and posters. We were delighted that three of our students placed!
Lauren Jonas received the prize for best 3-minute talk for "Uptake of phosphorus-containing compounds by the marine sponge, Ledenfeldia chondrodes, and it's microbiome."
Tori Agnew received second place for the 3-minute talk for "Oyster filtration of Labyrinthula zosterae in changing environmental conditions."
Dan Fucich received second place for the poster competition for "Toxin antitoxin systems allow Chesapeake Bay Synechococcus to survive highly variable environments."