USM Maryland Momentum Fund Invests $150,000 in Minnowtech
Minnowtech, LLC, an aquaculture technology company enabling shrimp farmers to image shrimp abundance with precision, received a $150,000 joint investment from the University System of Maryland (USM) Maryland Momentum Fund and the University of Maryland Center for Environmental Science (UMCES) to complete the company's $600,000 seed funding round. Minnowtech's technology maximizes farmers' ability to meet rapid growth in the $27 billion farmed shrimp industry.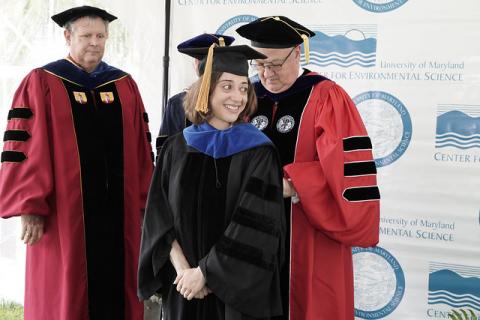 "These new investment funds will enable us to accelerate product launch and execute on our technical milestones as we prepare to enter the Southeast Asian market," said Minnowtech CEO Suzan Shahrestani. "Over the last year, our team has spent time visiting with shrimp farmers in Asia, Europe, and the Americas to gain a deep understanding of their needs and how we can help hundreds of thousands of shrimp farmers optimize yields."
Shrimp thrive in turbid water, making it difficult for farmers to know how many shrimp are in their ponds and, thus, how much to feed them. Minnowtech's goal is to help shrimp farmers have clearer visibility into the health of their harvests and allow them to make informed decisions in the best interest of their crops. Using a data-based imaging tool, shrimp farmers can optimize the health and growth of their farms, enhancing harvest of market-size shrimp while minimizing risks to juvenile shrimp. 
The startup was co-founded by Shahrestani, who combined the technical expertise she developed in her pursuit of a fisheries doctorate at UMCES' Chesapeake Biological Laboratory and training in the Ratcliffe Environmental Entrepreneurs Fellowship at the Institute of Marine and Environmental Technology to launch her own company.
"While the Momentum Fund financing represents only a quarter of our raise, the round really wouldn't have happened so fast without them. It's important to investors that the people who know you the best are willing to participate in the round. Since we got our start from within UMCES and the USM, it was a real vote of confidence to get their ongoing support," Shahrestani said.
"Suzan has excelled at developing an innovative approach to science that directly improves shrimp farming efficiency to help a growing global demand for food," said Peter Goodwin, president of the University of Maryland Center for Environmental Science. "We are excited to see our students apply their knowledge to technological advances that lead to starting their own companies to address some of the world's environmental challenges. The Momentum Fund  and Ratcliffe Environmental Entrepreneurs Fellowship opportunities have inspired our students to think about entrepreneurship in an innovative way."
The University System of Maryland's Momentum Fund initiative provides investment funding for promising technology ventures born out of USM's 12 institutions. This is the first time the Momentum Fund has invested in a startup related to the University of Maryland Center for Environmental Science.
This round of financing also includes participation from the HATCH Accelerator Fund, a global aquaculture accelerator with operations in Hawaii, Norway, Ireland, and Singapore, and other individual and strategic investors from around the world.
About the USM Momentum Fund
The Maryland Momentum Fund is an initiative of the University System of Maryland (USM) to provide late seed investment funding for promising technology ventures that come out of any of the twelve constituent USM institutions, its research parks, and its students, faculty, or graduates. With a $10 million commitment from the USM already in place, the Fund co-invests with venture capitalists, foundations, and angel investors.
The Maryland Momentum Fund, which was established by the USM Board of Regents to support promising commercial opportunities arising from advances in research and intellectual property at USM campuses, has invested in nine startups to date: Gemstone Biotherapeutics, MF Fire, Neoprogen, NextStep Robotics, the North American Wave Engine Corporation, PaverGuide, Zest Tea, and Veralox  The Fund is designed to create returns and support USM's most innovative ideas as they enter the marketplace. Learn more at www.momentum.usmd.edu.